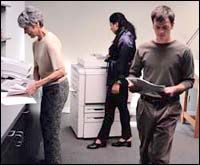 Regardless of an applicant's qualifications, we always look for one attribute in particular for members of our team -- the desire to do better than your last best work by going the extra mile to contribute to an experience for our customers that will have them telling everyone about Minuteman Press.
We can train people how to work with clients or run pieces of equipment, but to have passion for customer service and pride for your work takes a unique individual.
The individuals we hire must have the ability to communicate effectively, a high level of organization, strong interpersonal skills, and a mature work and personal ethic that enables them to recognize what needs to be done and DO it.
If these are qualities you possess, we're sure you'll find a rewarding career with us. We supply our team with quality technology, afford them the best training available, and provide every opportunity for growth within our company.
Current Openings
Thank you for expressing interest in a career with us.
The following positions are currently available. Additionally, we do have occasional need for part-time bindery assistance and over-flow design work. If you would like to be available for these, please forward your resume via the "Send A File" link in our Customer Service Area.